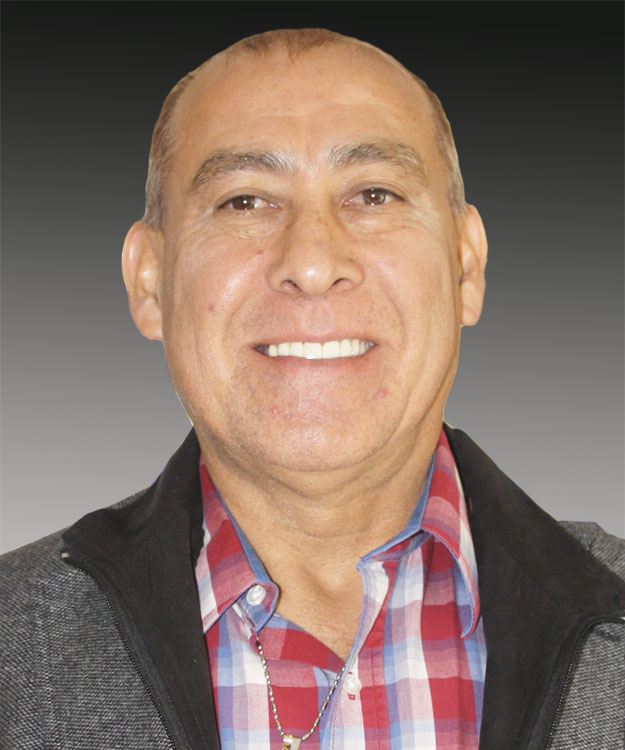 Dr. Carlos Zúñiga Islas
Correo electrónico: czuniga@inaoep.mx
Teléfono: +52 222 266 31 00 ext. 2118
Oficina: 2118
información curricular:
Doctorado obtenido en: Instituto Nacional de Astrofísica, Óptica y Electrónica
Título de Tesis:"Amorphous carbon films deposited by PECVD at low frequency for inter-metallic dielectric application". 2005
Maestría en Ciencias obtenida en:Instituto Nacional de Astrofïsica, Óptica y electrónica

Título de Tesis: "Obtaining and charaterization of amorphous silicon germanium alloys films deposited by PECVD". 1997

Líneas de Investigación:
Deposit amorphous and nano-structured materials by Chemical Vapour Enhancement Deposition by Plasma PECVD method at low frequency.

Deposit and characterization of carbon materials doped with phosphorus o boron for applications on wide band gap devices semiconductors.

Study, analyze and characterization the correlation optical, electrical and mechanics properties of amorphous films with deposition conditions.

Optical characterization of amorphous films by infrared FTIR, ultra-violet visible UV-Vis spectroscopy absorvance and transmittance), and atomic force microscope AFM.

Deposit and characterization of nano particles and nano tubes of oxide titanium films for photovoltaic and photo catalysis applications.
PROYECTOS:
Proyecto: CONACYT-SENER No. 152244, Titulo: Celdas solares fotovoltaicas basadas en películas Ge(x)Si(1-x):H depositadas por plasma sobre sustratos de plástico, Status: Aceptado, Responsable de proyecto Dr. Andrey Kosarev, colaboradores Dr. Mario Moreno, Alfonso Torres y Carlos Zuñiga Islas.

ÚLTIMAS Tesis DIRIGIDAS:
Doctorado
William W. Hernández Montero
"Obtención y caracterización de carburo de silicio dopado para aplicaciones en celdas solares", febrero 2017.
Maestría
Alba Hernández Arenas
"nanotubos de oxido de titanio", julio 2016.

Publicaciones Recientes:
"Influence of SiH4 and pressure on PECVD preparation of silicon films with subwavelength structures", William W. Hernández-Montero, Carlos Zúñiga-Islas, Adrián Itzmoyotl-Toxqui, Joel Molina-Reyes, and Laura E. Serrano-De la Rosa, Journal of Vacuum Science and Technology B, Vol. 35, Issue 1, 011204 (2017). DOI: http://dx.doi.org/10.1116/1.4973303

"Hermetic Capacitive Pressure Sensors for Biomedical Applications", Daniela Diaz-Alonso, Mario Moreno-Moreno, Carlos Zuñiga, Joel Molina, Wilfrido Calleja, Juan Carlos Cisneros, Luis Niño de Rivera, Volodymir Ponomaryov, Felix Gil, Angel Guillen, Efrain Rubio, Microelectronics International Volume 33 Issue 2, (2016) 79 – 86. ISSN: 1356-5362, Impact Factor: 0.519,

"A generic MEMS fabrication process based on a thermal bubget approach", Carlos Ramon Baez Alvarez, Monico Linares Aranda, Alfonso Torres Jacome, Mario Moreno Moreno, Joel Molina Reyes, Carlos Zuñiga Islas, Wilfrido Calleja Arriaga, Journal of Electronics Cooling and Thermal Control, 6, (2016) 97-107. ISSN:2162 -6170, Impact Factor: 0.63

"Boron-doped hydrogenated amorphous semiconductor MEMS", Margarita Galindo, Carlos Zúñiga, Rodolfo Palomino-Merino, Francisco López, Wilfrido Calleja, Javier de la Hidalga, Victor M. Castaño, Materials and technology 49, 1, (2015) 3 – 8.

"Fabrication process of a microstructures based on hydrogenated amorphous SiGe films for applications in MEMS devices", M. Galindo-Mentle, F. López-Huerta, R. Palomino-Merino, C. Zúñiga-Islas and A. L. Herrera-May, Journal of Mechanical Science and Technology 29 (4) (2015) 1673-1679. ISSN: 1738-494X (print) 1976-3824 (Online), F.I. = 0.89

"Understanding the arithmetic of color", J. Medina Márquez, S.E. Balderas-Mata and C. Zuñiga-Islas, Revista Mexicana de Física 61 (2015), 28-30. ISSN: 1870-3542