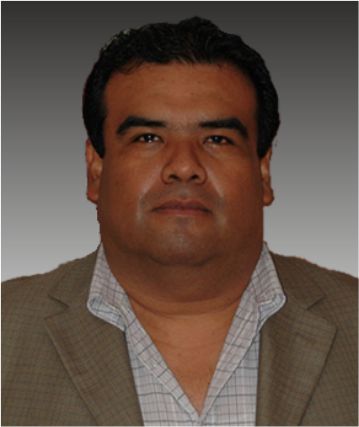 Dr. Luis Hernández Martínez
Correo Electrónica: luish@inaoep.mx
Teléfono: +52 222 266 31 00 ext. 1401
Oficina: 1401
Información Curricular:
Bsc.'s diploma
Benemérita Universidad Autónoma de Puebla, March, 1999.
Master of Sciences degree in electronics:
Instituto Nacional de Astrofísica, Óptica y Electrónica (INAOE), October, 1995.
PhD. degree in electronics:
Instituto Nacional de Astrofísica, Óptica y Electrónica (INAOE), May, 2001.
Post-doc
École Polytechnique Fédérale de Lausanne
Laboratory of Nonlinear Systems (LANOS), 2003.
Líneas de Investigación:
Circuitos No Lineales

CAD

Trazado de Trayectorias Robóticas libres de colisiones

Sistemas Digitales embebidos
Últimas Tesis Dirigidas
Doctorado
Héctor Vázquez Leal
Desarrollo de un simulador Homotópico para circuitos altamente no lineales. INAOE. October 2005
Williams Ortiz Martínez
Diseño y aplicación de una CNN piecewise linear.
INAOE. March 2012.
Delia Torres Muñoz
Estudio del trazado de curvas en métodos Homotopicos.
INAOE August 2015.
Maestría
Gerardo Ulises Díaz Arango
Implementación en múltiples plataformas de técnica esférica de trazado de trayectorias homotópicas libres de colisión.
INAOE June 2014
Héctor de Cos Cholula
Spanish title: Sistema embebido digital para el trazado de trayectorias libres de colisiones.
INAOE November 2016.
Publicaciones Recientes:
Gerardo Diaz-Arango, Héctor Vázquez-Leal, Luis Hernandez-Martinez, María Teresa Sanz Pascual, and Mario Sandoval-Hernandez, "Homotopy path planning for terrestrial robots using spherical algorithm", IEEE Transactions on Automation Science and Engineering, Issue: 99, DOI: 10.1109/TASE.2016.2638208, January 2017.

Arturo Sarmiento-Reyes, Luis Hernandez-Martinez, Hector Vazquez-Leal, Carlos Hernandez-Mejia, Gerardo Ulises Diaz Arango, "A fully symbolic homotopy-based memristor model for applications to circuit simulation", Analog Integr. Circ. Sig. Process, Springer DOI 10.1007/s10470-015-0617-9, 2015.

Joel Molina-Reyes and Luis Hernandez-Martinez, "Understanding the resistive switching phenomena of stacked AI/AI2O3/AI thin films from the dynamics of conductive filaments", Complexity Wiley/Hindawi, Vol. 2017, Article ID 8263904, 10 pages, doi:10.1155/2017/8263904, 2017.

Delia Torres-Muñoz, Luis Hernandez-Martinez, Héctor Vázquez-Leal, "Spherical Continuation Algorithm with Spheres of Variable Radius to Trace Homotopy Curves", International Journal of Applied and Computational Mathematics, pp. 1-13, DOI: 10.1007/s40819-015-0067-1. Springer ISSN: 2349-5103, 2015.

H. Vazquez-Leal, J. Rashidinia, L. Hernandez-Martinez, H. Daei-Kasmanei, "A comparison of hpm, ndhpm, picard and picard-padé methods for solving michaelis-menten equation", vol. 10-1016, Journal of King Saud University, Elservier, 2014.