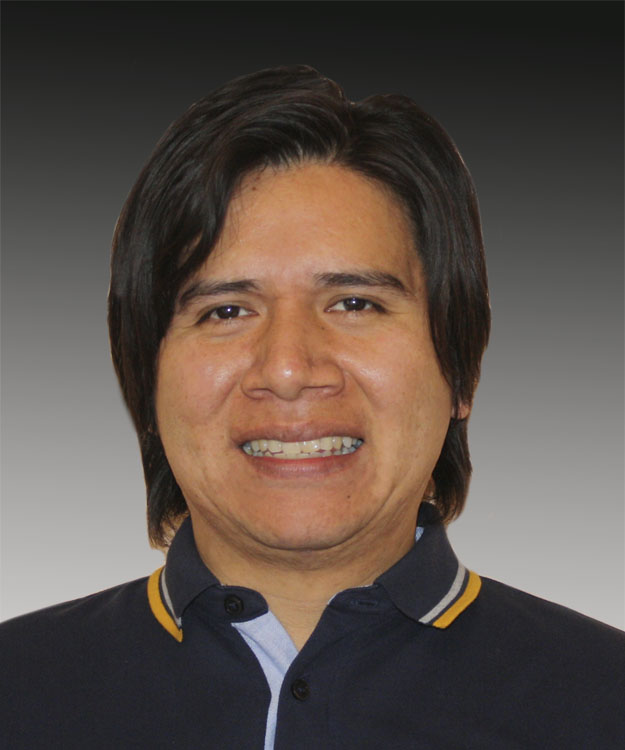 Dr. Joel Molina Reyes
Investigador Titular B
Investigador Nacional Nivel 1
Correo electrónico: jmolina@inaoep.mx
Extensión: 2105
Información Curricular:
Doctorado obtenido en: Tokyo Institute of Technology
Título de Tesis: "A Study on the Reliability of Metal Gate–La2O3 Thin Film Stacked Structures"
Maestría en Ciencias obtenida en: Instituto Nacional de Astrofísica. Óptica y Electrónica
Título de Tesis: "A Study of Dielectric–Silicon Structures and their Application to Ion Sensors ISFET–type"
Licenciatura obtenida en: Universidad Veracruzana
Título de Tesis: Exención por promedio académico.
Líneas de Investigación:
Gate stack engineering for advanced CMOS technology.
Microelectronics, Nanoelectronics.
Physics and technology of nanostructured electron devices.
Physics of carrier transport, conduction mechanisms and charge trapping in    advanced electron devices.
Physics, chemistry and engineering of solid-state interfaces.
Physical, chemical, electrical, thermal, magnetical and reliability characterization of materials and advanced electron devices (XPS, XRD, TEM, SEM, EDS, FTIR, AFM, EBSD, I-V, C-V, Reliability, etc).
Advanced integrated circuit fabrication technology (FEOL/BEOL) and processing of materials and devices.
Advanced transistor architectures: MOSFET, FinFET, DG-FET, Hall-FET, IGFET, TFT, etc.
Development of ultra-thin films for advanced logic, memory and sensing technologies.
Development of photocatalytic nanostructures for bacteria inactivation.
Development of photocatalytic nanostructures for gas sensing and simultaneous energy conversion/storage.
Design, fabrication and characterization of electronic materials for biological and medical applications.
Proyectos:
University of Texas at Dallas. "Gate Stack Engineering for the Next-Generation CMOS ". 2018-2019.
Singapore University of Technology and Design. "Nanoscale Characterization of High-k". 2016-2019.
CNyN-UNAM. "Yttria-Stabilized Zirconia (YSZ) for Application in Solid-State Batteries". 2017-2018.
CINVESTAV. "Thermodynamic Stability of HfO2 Films after Doping with Al2O3/ZrO2 by ALD". 2014-2017.
UDLAP. "Field-Effect Devices for Sensing DNA Hybridizing Events". 2018-2019.
UDLAP. "Synthesis of Metal-Oxide Nanoparticles with Enhanced Photocatalytic Activity". 2013-2018.
Universidad Autónoma de Sinaloa. "Application of Stacked Ultra-Thin Films in Optometry". 2018-2019.
Universidad Autónoma Metropolitana. "Development of Integrated ISFET Sensors for pH Measurement in Water Samples Intended for Human Consumption". 2014-2016.
Universidad Veracruzana. "Application of Integrated ISFET Sensors for Ruminal pH and Temperature Measurements in Local Cattle being Adapted to Climate Change". 2014-2015.
CONACyT. "Fundamentals, Characterization and Application of ALD Materials". 2017. DADC2017/279695.
CONACyT. "Taller Nacional de MEMS con Aplicaciones en Ingeniería Biomédica". 2016-2018.
CONACyT. "Physical and Chemical Structure of Nanofilms to their Functional Properties". CB2012/179304.

CONACyT

. "ALD of High-k Materials and their Characterization for Nano-CMOS". CB2009/135027.

CONACyT. "Electromagnetic Emission & Interference in Nanometer MOS IC Technology". CB2008/100028.
CONACyT. "Structure of HfO2 Nano Thin-Films". CB2007/080285.
Space Charge LLC. "Nanoscale Electrical Energy Storage and Microchip Fabrication". 2016-2017.
Team Technologies. "Design and Fabrication of Integrated RF Switches". 2012-2016.
Freescale, Inc., "ISFETs with Integrated Membranes for Selective Ion Detection". 2011-2012.
Freescale, Inc. "FET Devices for Biomedical Applications". 2010-2012.
Intel. "High-k Gated MOS Devices for MOHOS-type NVM Devices". 2010-2011.
Tesis Dirigidas Recientes: 
Doctorado:
Maria Alejandra Romero Morán, "Inactivation of Common Bacteria in Water Sources using Nanostructured Materials with Enhanced Photocatalytic Activity". INAOE (2016-2019).IN PROCESS.
Héctor Manuel Uribe Vargas, "Modeling of the Carrier Transport Properties of Nanostructured Devices with Application to Advanced Logic and Memory Technologies". INAOE (2018).
Erika Póndigo de Los Ángeles, "Modeling and Characterization of Multi-Directional Gate Current Components in Nano-Scaled MOSFETs", co-directed with Dr. Edmundo Gutierrez. INAOE (2014).
Maestría:
Omar López, "A Study on FET Devices based on Schottky Barrier and Metal-Gate/high-k Stacked Thin-Films". INAOE (2017).
Alba Arenas Hernandez, "Synthesis and Characterization of Titanium Dioxide Nanotubes". co-directed with Dr. Carlos Zuñiga. INAOE (2016).
Natiely Hernandez Sebastian, "Fabrication and Characterization of Microelectrodes on Flexible Substrates for Electrical Stimulation of the Cornea". co-directed with Dr. Wilfrido Calleja. INAOE (2015).
René Valderrama, "Characterization of Memristive Devices based on MIM Structures and Fabricated at Low Temperature". INAOE (2013).
Berni Manolo Pérez, "Design, Fabrication and Electrochemical Characterization of ISCAP Sensing Integrated Devices for pH Sensing Applications", co-directed with Dr. Alfonso Torres. INAOE (2013).
Erick Guerrero, "Conditioning Circuit Architectures for Chemical Sensors", co-directed with Dr. Maria Teresa Sanz. INAOE (2012). 
Rafael Ortega, "HfO2 Nanoparticles as Charge Trapping Layer for Memory Devices", co-directed with Dr. Alfonso Torres. INAOE (2012). 
Ana Luz Muñoz, "Spin-On-Glass as Gate Dielectric in MOS Devices and as a Matrix for Embedding HfO2-Nanoparticles", co-directed with Dr. Alfonso Torres. INAOE (2010).
Publicaciones Recientes:
2018
2017
2016
2014
Libros:
Página Personal:
http://www-elec.inaoep.mx/~jmolina/
Última actualización: 18-06-2021 / 20:36 por: Liliana Perea Centeno